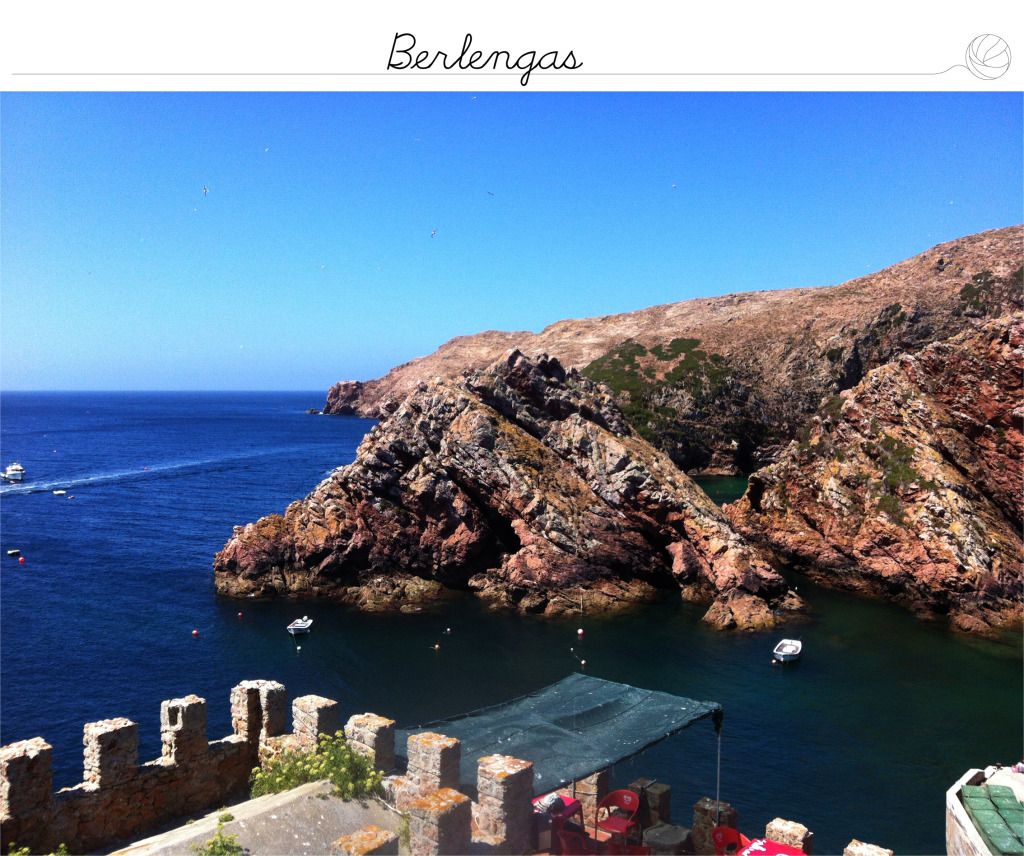 As you read in my previous post - Summer Adventures - I had the opportunity to spend a night at a friend's house in ilha das Berlengas, here is a little more on how those days went by. I hope you like it!
This was my third time in Berlengas, and even though I didn't spent there as much time as I did two years ago, it was also very exciting.
Diogo, B, and I arrived Thursday morning at Berlengas' wharf. All the other adventurers, however, arrived the day before. The boat ride was unlike
any other
I had done before, the waves were considerable and rocked the boat the entire trip that was not a problem though – instead of getting seasick I was amused by the bouncing of the boat.
When we got there we met up with the rest of our friends and quickly got ready to go have some fun in the ocean. We put on our wetsuits and took both the motor and the paddle boat down to the water, which was not as simple as it sounds.
Rui, who has been spending
part of his summer in Berlengas since the beginning of times, carefully chose a place for us to dive into the ocean and enjoy ourselves the way we wanted. Some swam and appreciated how beautiful and natural the bottom of the ocean his, how small and not so small fish minded they're own business. Others searched more exhilarating activities like climbing trembling rocks and jumping from them into the uncertain ocean
.
Soon everyone felt hungry and we returned home for a fancy lunch we cooked.
Not long after lunch Rui took some of us sightseeing. We visited some caves and small beaches where seagulls were all over the place. We walked around and and made a full inspection to São João Baptista's Fort. This fort is currently a pension and the only alternative if you want to spend the night on the island and don't want to camp (there are only six very small family houses and none of them is for sale or for rent).There was a chilly breeze and we were still digesting our lunch so we returned without diving into the water.
Later that day, after a couple of farewells and some jumping around the
wharf and of the bridge I was cold and they were still game for some more boat riding and swimming, considering I stayed home and they went off to explore a cave, this way there was no need to take the paddle boat.
While they were out I washed way the salt water and warmed myself while appreciating the sunset. It was bright orange and very slow. The sun was also relaxing, no rushing, it disappeared softly behind Berlengas and said good bye for the day. There wasn't much for me to do and no one to talk to, I decided to take the opportunity to start reading a book I had taken with me, and then after a while and some worrying they eventually returned super exited.
We made dinner and tried to stay awake until they turned off the lights outside (all the lights, without exception, are turned off between 1 am and 9 am). We took a quick look at the clear skies, the insane amount of stars and the gorgeous Milky Way. We were all very tired and went to bed without enjoying the night to its maximum
.
It was a slow morning, most of them were tired and unwilling to help organizing and cleaning the house, poor Rui had to do almost everything by himself. We took the boats out to the ocean late and decided to explore around the fort and jump to the water around it. For the first time I got to see the caverna azul (blue cave) do its magic. I was starting to think it was nothing but a story that didn't check out.
We lunched late and the sun was unforgivable, super-hot. There was some more jumping from the bridge and B returned to the main land. I returned later that day too, after talking to my sisters and deciding to go with them to a medieval fair that same day. Sofia was starting to get upset because she was going away and I wasn't spending any time with her.
These are some photos I took with my iPhone, I didn't take my camera unfortunately.
The short film in the end was recorded with a Go Pro on a very cute handle B and I built, and edited by the very talented Rui Ximenes.
Joana and Rita, who joined us for a day, hiding from the sun.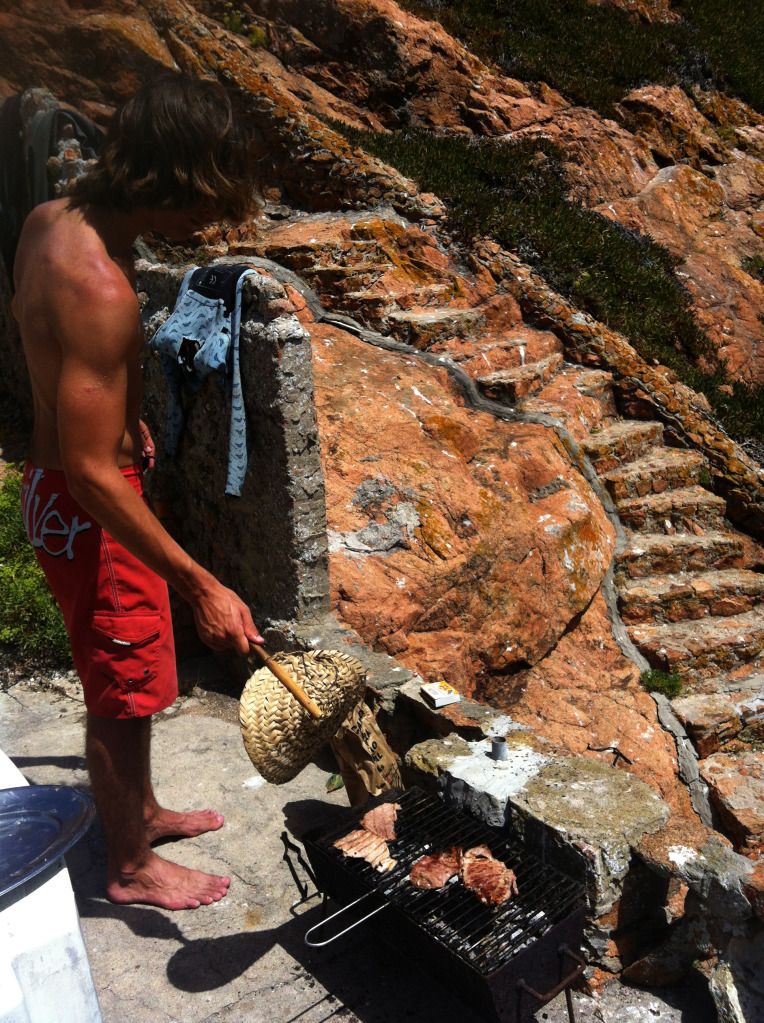 Diogo C. cooking some meat for our nervous stomachs.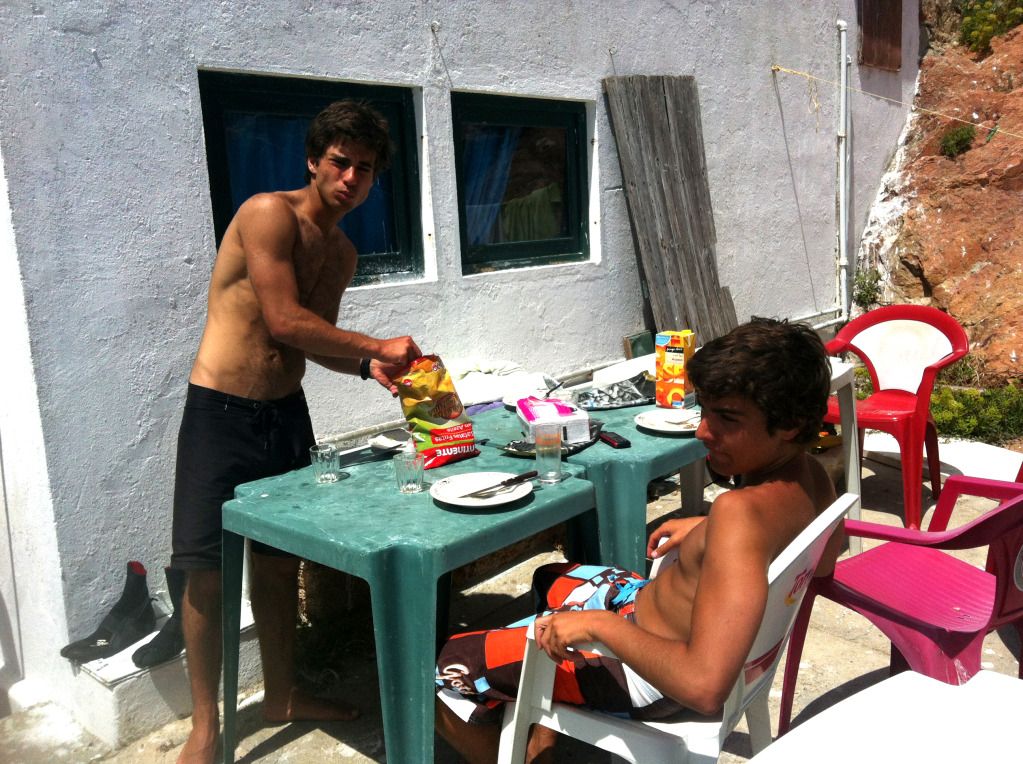 Rui and Rodrigo waiting in the sun for some food.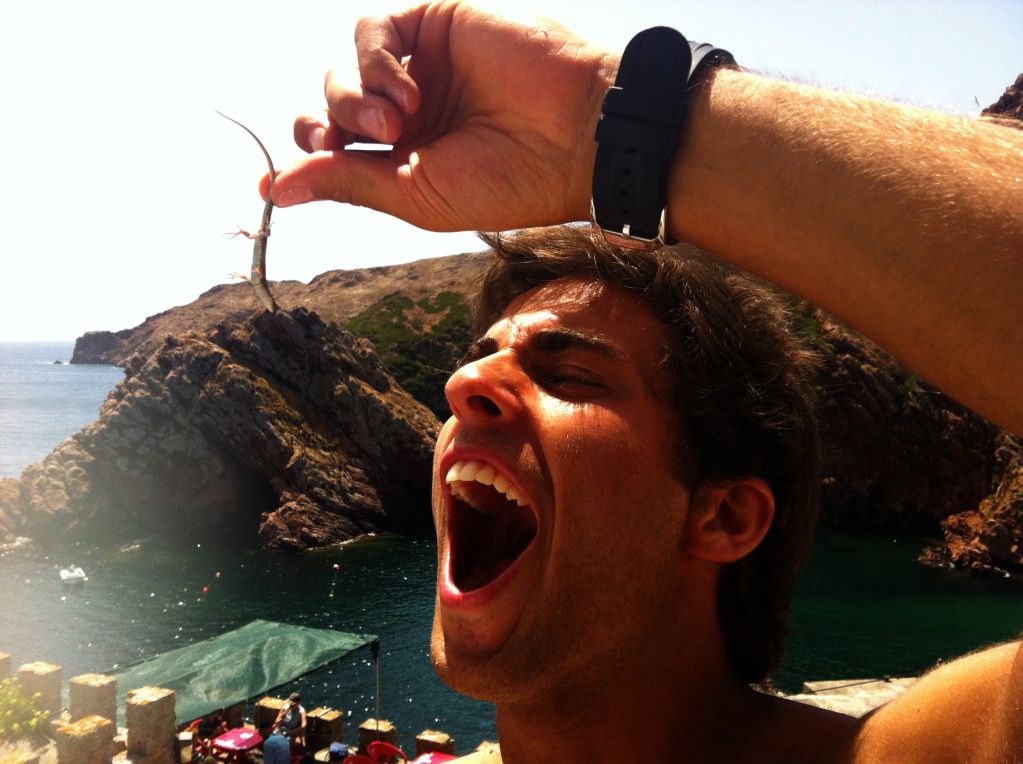 Rui fooling around.
B, António, Bruno, Rodrigo and Diogo C. enjoying the sunny morning.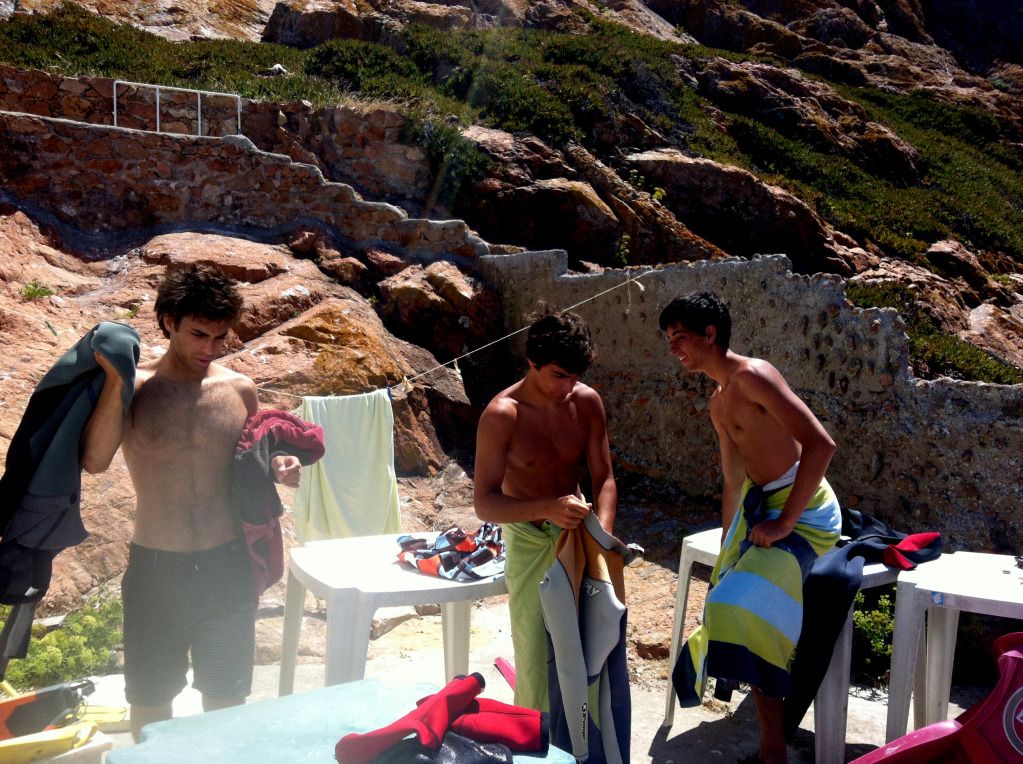 Rui, Rodrigo and António putting on their wetsuits.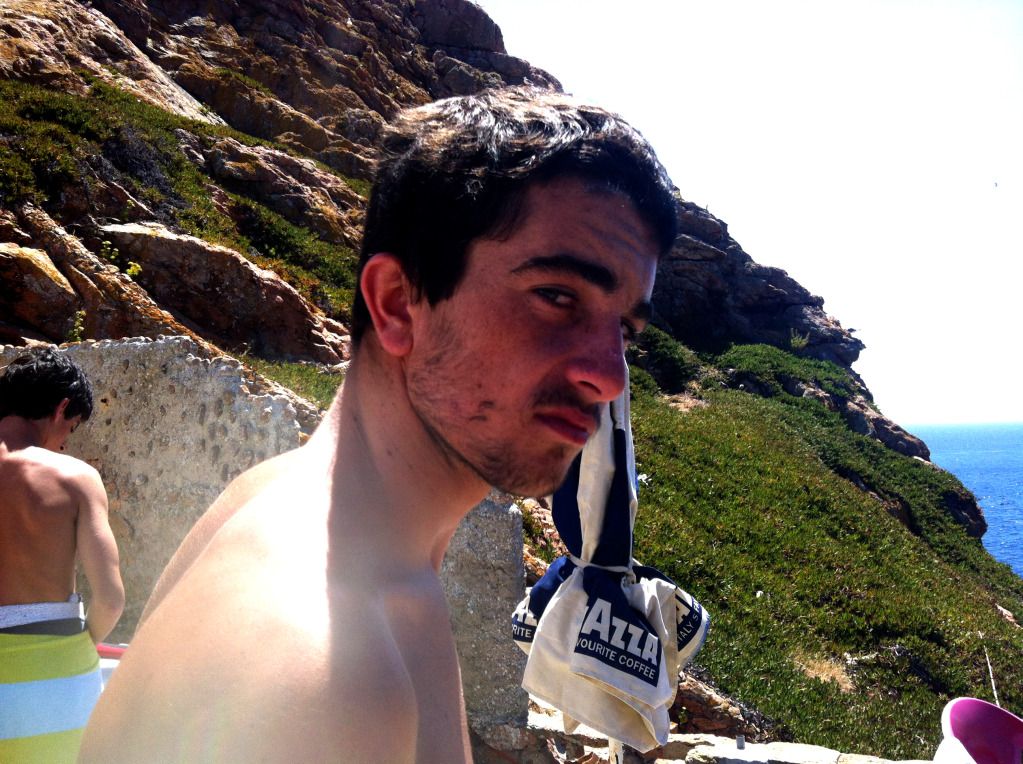 Suspicious Bruno.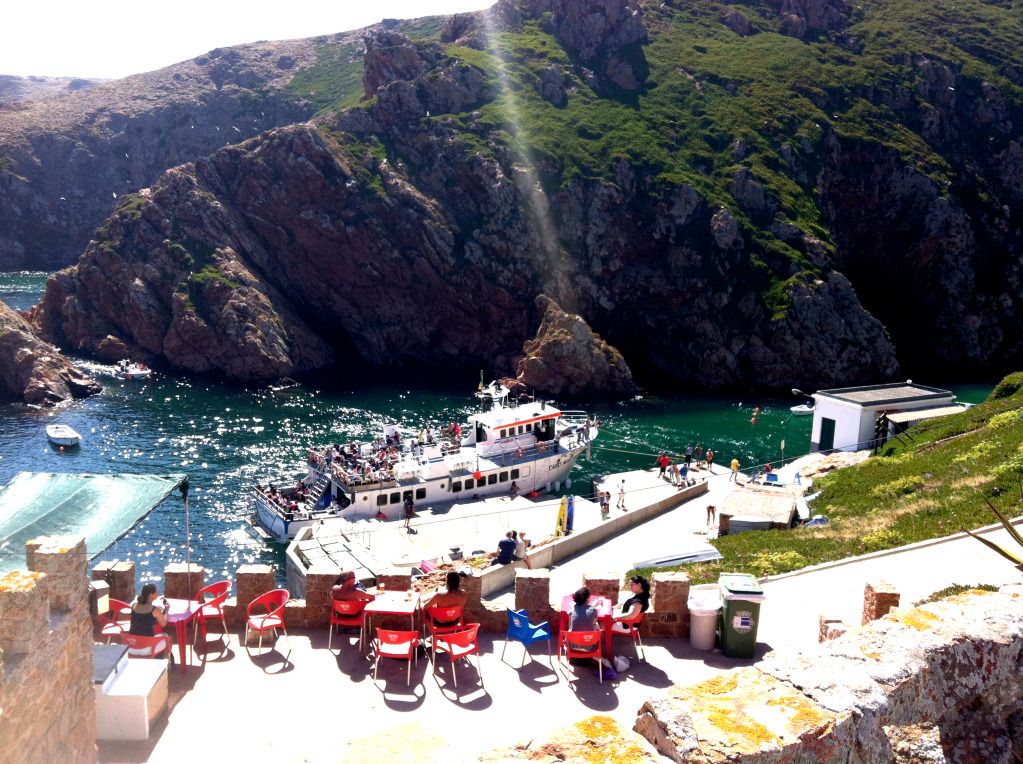 Berlenga's wharf and Cabo Avelar Pessoa (the boat).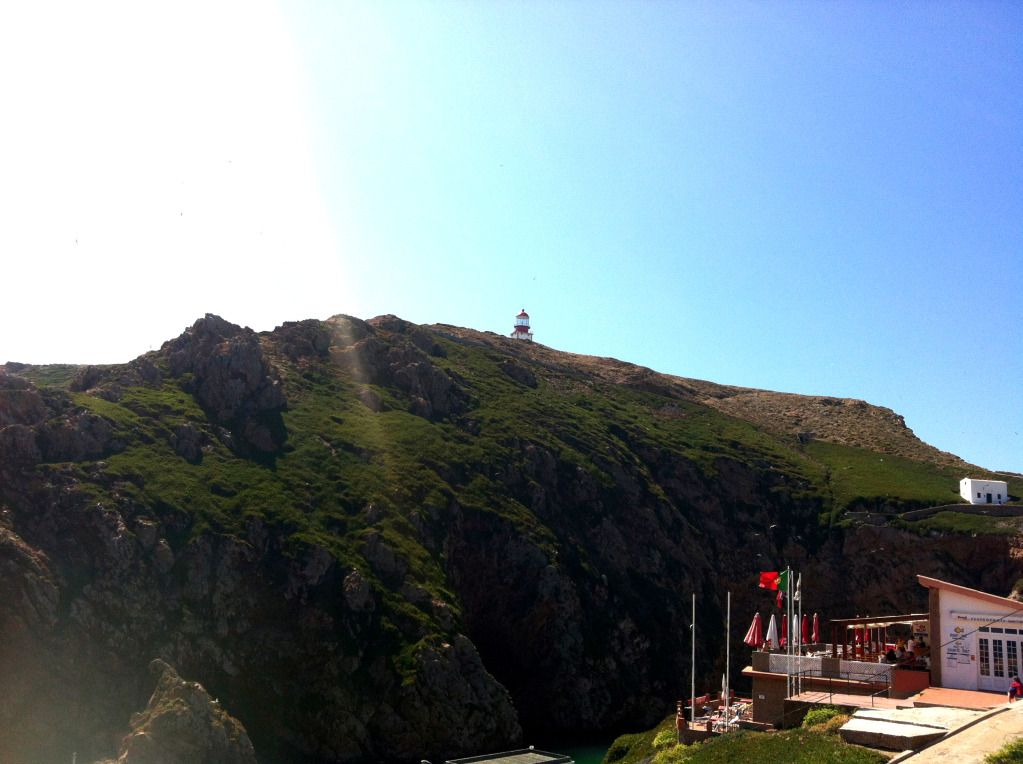 Part of the lighthouse visible from Rui's.
(I suggest you watch it big and in HD)